Every year, we compile a list of unique and distinctive gifts we think most funeral professionals would appreciate. We all know there aren't a lot of novelty gifts created for funeral professionals. Yet, every year we find more awesome stuff to add to this growing list of amazing deathcare inspired gifts. We love spending time scouring the web to find the coolest funeral-related products.
While some of these items are meant to bring laughter, others are thoughtful gifts you can give to show a mortician how much you appreciate them. Whether you're shopping for your spouse, parent, sibling, employee or a co-worker, we have no doubt you'll find something special on this list for the funeral director in your life. And if you're secretly shopping for yourself, don't worry, we'll take it to the grave 😉
We recently updated our Funeral Director Gift Guide to replace out-of-stock items with brand new gift ideas you can get for the funeral director in your life.
Mortician Themed Candles
Candles are not usually the most personal of gifts you could give someone, but these ones certainly break that mold. If you don't like them, you probably need to lighten up! We could not pick which one we liked better. Both are sold from this incredible Etsy shop that offers a plethora of unique mortician and embalmer gifts. We recommend exploring the entire Jeannibellini shop to discover more awesome items we couldn't fit on our list.
Embalming Fluid Candle
Funeral Director Candle
---
Holly Jolly Funeral Director Sweatshirt
Embrace your festive side this holiday season with this cheerful sweatshirt. You can get into the Christmas spirit while also squashing that stereotype of funeral directors as dark and somber.
---
Last Rites: The Evolution of the American Funeral
The perfect coffee table book to add to your collection that explains why we bury our dead the way we do in a non-textbook type manner. There is much fascinating funeral history to be found within its pages. For a sneak peak, check out our blog post.
---
I Can't, I'm On-Call T-Shirt
Tired of having to explain again and again why you can't attend a party or take an unplanned vacation? Let your T-shirt do the talking for you. This is a must for every funeral director's wardrobe. We love the tongue-in-cheek way it conveys how much dedication and commitment is required to be a funeral director.
---
Porti-Boy Necklace Pendant
What funeral professional wouldn't want an embalmer's emblem in their jewelry collection? Show off your favorite piece of prep room equipment everywhere you go with this awesome Porti-Boy pendant. Not only will you be paying tribute to your profession, but you'll also have a blast confusing people outside of the funeral profession who might think you're wearing a tiny Margarita maker on around your neck.
We recommend exploring the TheBoutiqueBizarre Etsy page for other one-of-a-kind gifts for embalmers. From miniature prep rooms you can display on your desk to embalming fluid lapel pins, there are a lot of really cool novelty gifts you can find for funeral professionals.
---
Dancing Funeral Cats
The purrfect gift for any funeral director cat lover. When we stumbled upon this adorably awesome item on Ebay we thought, you gotta be kitten me! Who wouldn't want these paw-bearers adorning their desk? The best part is you can position the cats and coffin into multiple hilarious positions. The paw-sibility are as endless as our love for cat puns!
---
Dia De Los Muertos Clogs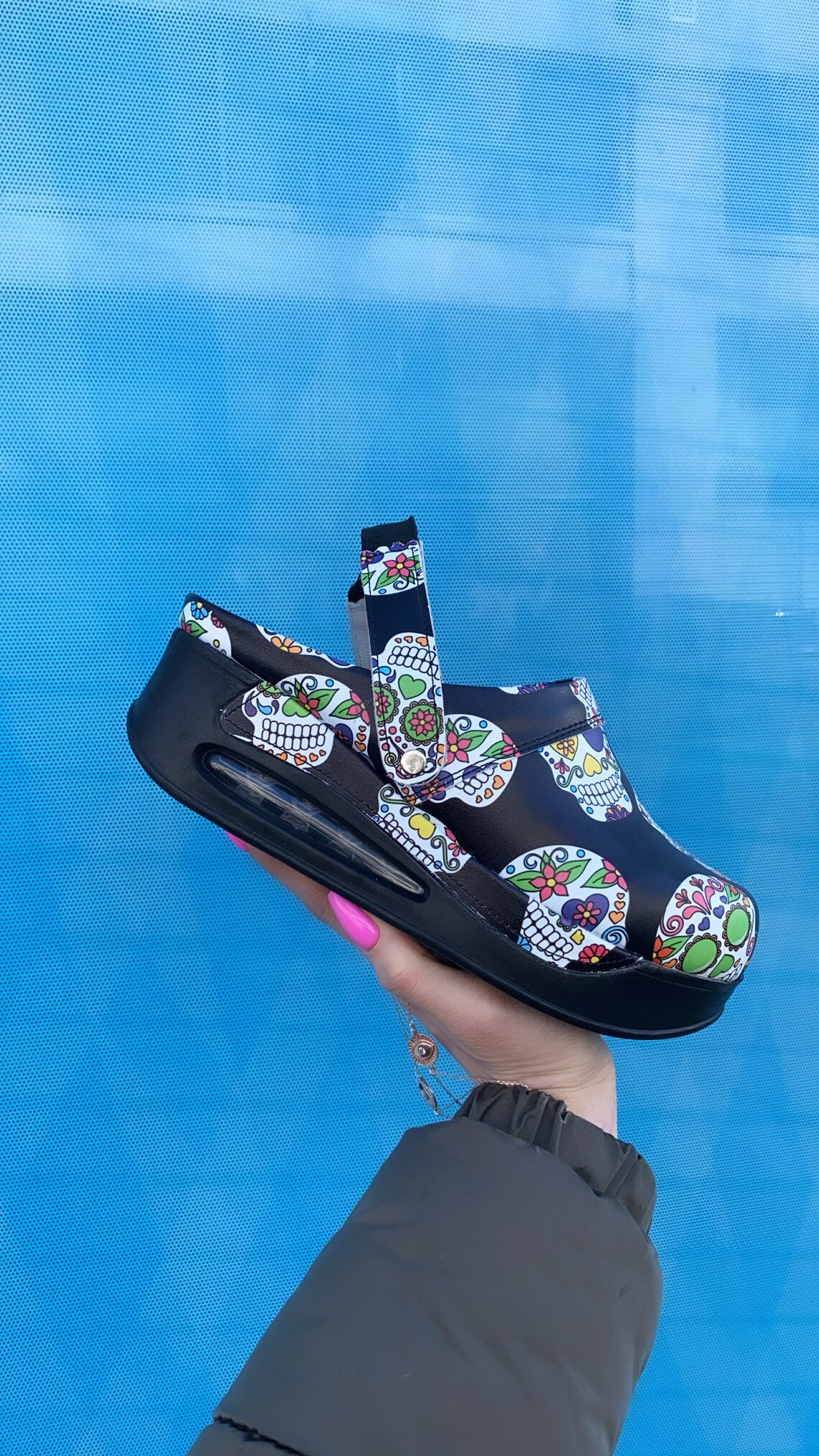 It's official…these shoes are truly to die for! Okay, bad jokes aside, we love the combination of a comfortable orthopedic clog with the beautiful Dios Los Muertos imagery. While you may not be able to wear these at funeral services, they provide the perfect slip-on solution for when it's finally time to ditch your heels.
---
Embalming Fluid Tumbler
Do you know an embalmer who can't live without their ice coffee? This beautiful tumbler is the perfect container to help keep them caffeinated while working in the prep room.
---
Atlas Obscura Book: An Explorer's Guide to the World's Hidden Wonders
The lifestyle of a funeral director does not allow for spontaneous trips to distant locales. But just because you can't travel often doesn't mean you can't discover new and exotic places every day. Our love for Atlas Obscura began when we discovered a treasure trove of stories that would inspire and fascinate funeral professionals. Back in February, we compiled a list of
28 Mind-blowing Atlas Obscura Stories Funeral Directors Would Love
, but there are so many more discoveries to be made. From ancient tomb discoveries, to unique headstones, to cemeteries that look like they are on a different planet, we are certain more than one of the stories in this collection will catch your attention.
---
Custom Funeral Home Snow Globe
Give your funeral home the snow globe treatment! What a cool (and inexpensive!) gift idea for that unshakable funeral director in your life. You can personalize the snow globe with any funeral home name and you can even customize the appearance of the little funeral director character!
More Info – Male Funeral Director Snow Globe
More Info – Female Funeral Director Snow Globe
---
Funeral Director Mom Mug
Take pride in your ability to take on any challenge with this awesome coffee mug that celebrates funeral director mothers.
---
Life Magazine – Kennedy Funeral Issue
This is a must-have collector's item for any funeral director. The 1963 issue of Life Magazine features photos and coverage of the historic funeral for President John F. Kennedy. Whether you display it proudly on your funeral home coffee table or keep it tucked away in your private collection, this is a vintage treasure we doubt you will regret purchasing for yourself. (Note, be sure to check Etsy if Amazon sells out of this item).
---
Last Responder Hoodie
Want to make the funeral director in your life's heart grow fonder? Get them a hoodie that recognizes them as a last responder. There are a lot of cool 'Last Responder' products available through both Amazon and Etsy, but we picked this one for our list because we love the look and design of the hoodie.
---
Hearse Beanie
Keep your head warm and your style cool with this awesome beanie embroidered with the image of a classic hearse.
---
How the Business of Death Saved My Life By Caleb Wilde
Inspire the funeral director in your life with this highly-rated book from Funeral Director and popular blogger, Caleb Wilde. There's a reason why Time Magazine recently referred to this book as a "must read" – it is a profound and illuminating book on mortality and the death care profession. Caleb draws from personal stories and reflects on his experiences working as a funeral director to reveal how understanding death can help us to live more enriching and fulfilled lives.
---
Funeral Director Christmas Tree Ornament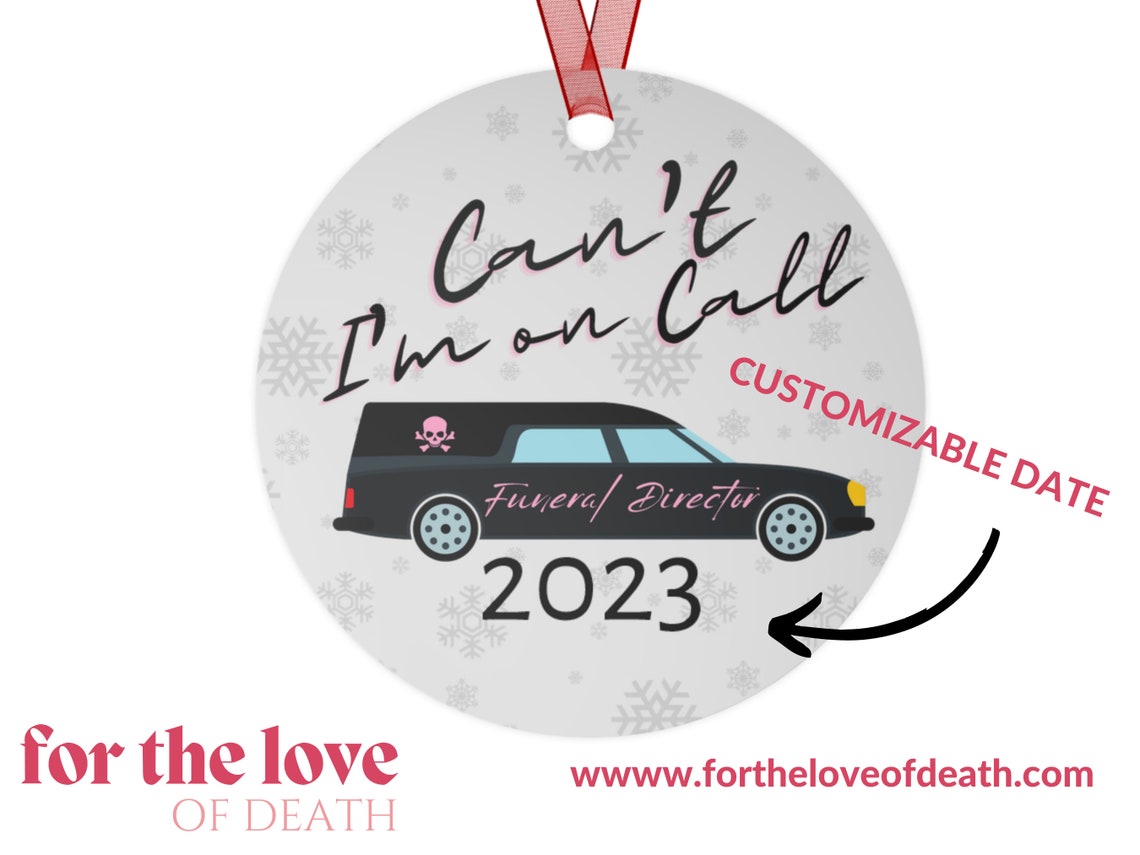 Show your favorite mortician how much they mean to you and make them laugh with this awesome Christmas tree ornament. While they may need to miss some holiday events this year while they are on-call, you can recognize their sacrifice and give them a good laugh with this gift.
---
Hearse Wagon Wood and Metal DIY Set
Forget building model airplanes or putting ships in bottles, this DIY Hearse Wagon will let you embrace your crafty side while paying homage to the history of funeral service. Our favorite part is the coffin visible through the glass wagon. What mortician wouldn't want to display the finished product on their desk while enjoying full bragging rights for building it?
---
Mortician-Themed Lapel Pins
Keep your life's calling close to your heart with these awesome and distinctive lapel pins. We especially love Portiboy and Death Care ones.
---
Embalming Room Coffee Mug
Could there be a more perfect coffee mug for your prep room?
---
Funeral Director Sweatshirt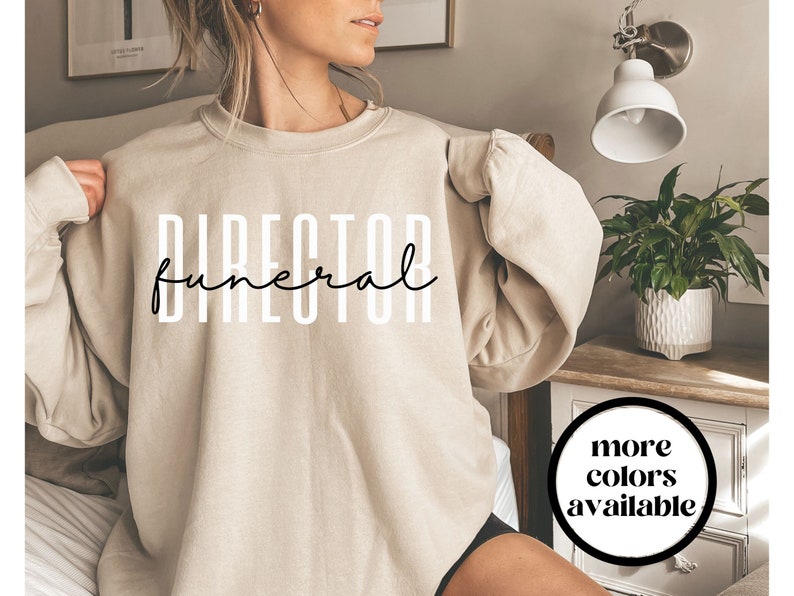 The sweatshirt's design effortlessly combines simplicity with chic elegance. The use of two distinct fonts to spell out 'Funeral Director' is both cool and eye-catching. It's a subtle yet impactful detail that elevates the overall appeal of the sweatshirt.
---
The Greatest People I Never Knew by Eric M. Daniels

This 5-star rated memoir by a funeral director recounts how the author was profoundly affected by the lives of many of the people served by his funeral home. The essays found within this novel are sure to inspire the director in your life to ponder and share about their own experiences in funeral service.
---
Last Responder Keychain
Looking for the perfect way to show your funeral home team how much their work is appreciated? Get them all a Last Responder keychain to remind them of their tremendous value to society. Every time they start the car to handle a late-night call, they will be reminded how important their work is for humanity.
---
Mortician's Gift Box
Why pick just one gift for your favorite funeral director when you can get four with this awesome Etsy-find? The set includes "Embalming Fluid" Loose Black Tea in Velvet Bag, "All Men are Cremated Equal" candle, Undertaker matchbox and Last Responder pin.
---
Six Feet Under: The Complete Series
There has never been a better time to revisit this Emmy award-winning HBO show, which takes place inside a family-owned funeral home. The show's deep exploration into the meaning of life and death still resonates today as much as it did when it first aired 15 years ago. You'll be amazed at the things you will pick up that you may not have noticed on your first viewing. (For example, did you know that the show writers predicted the Green Burial movement with their portrayal of Lisa's death and burial?) This Christmas is the perfect time to get reacquainted with the Fisher family and give this rightfully celebrated show a second watch.
Amazon Prime Streaming Options
DVD Box Set
---
Antique Mortuary Makeup Kit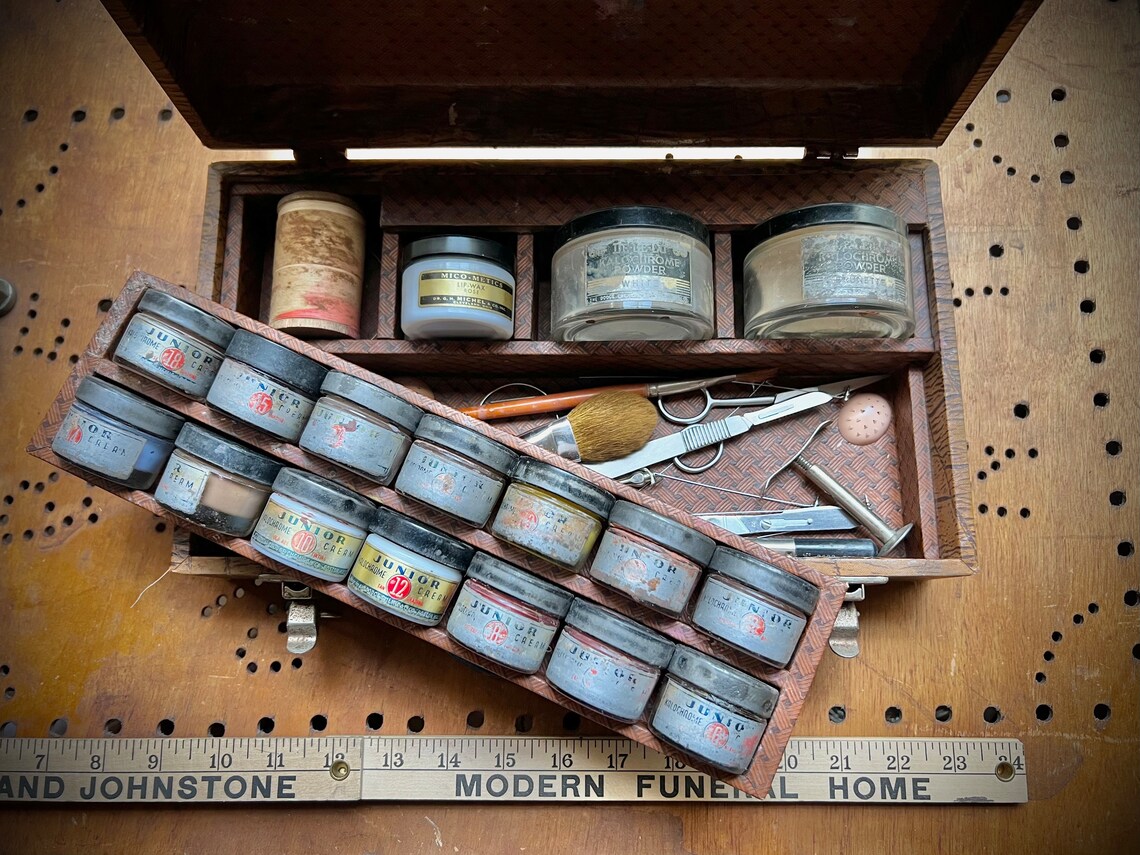 Do you know an embalmer who is also an antique collector? Help them expand their collection with this 80-year-old mortician's makeup kit. The complete kit includes makeup, brushes, scalpels, eye caps, needles and thread in a vintage case.  A rare find indeed!
---
Hearse Flip Flops
These off the wall flip flops are perfect for the next time the funeral director in your life is leading a procession down to the beach.
---
Adorable Porti-Boy Baseball T-Shirt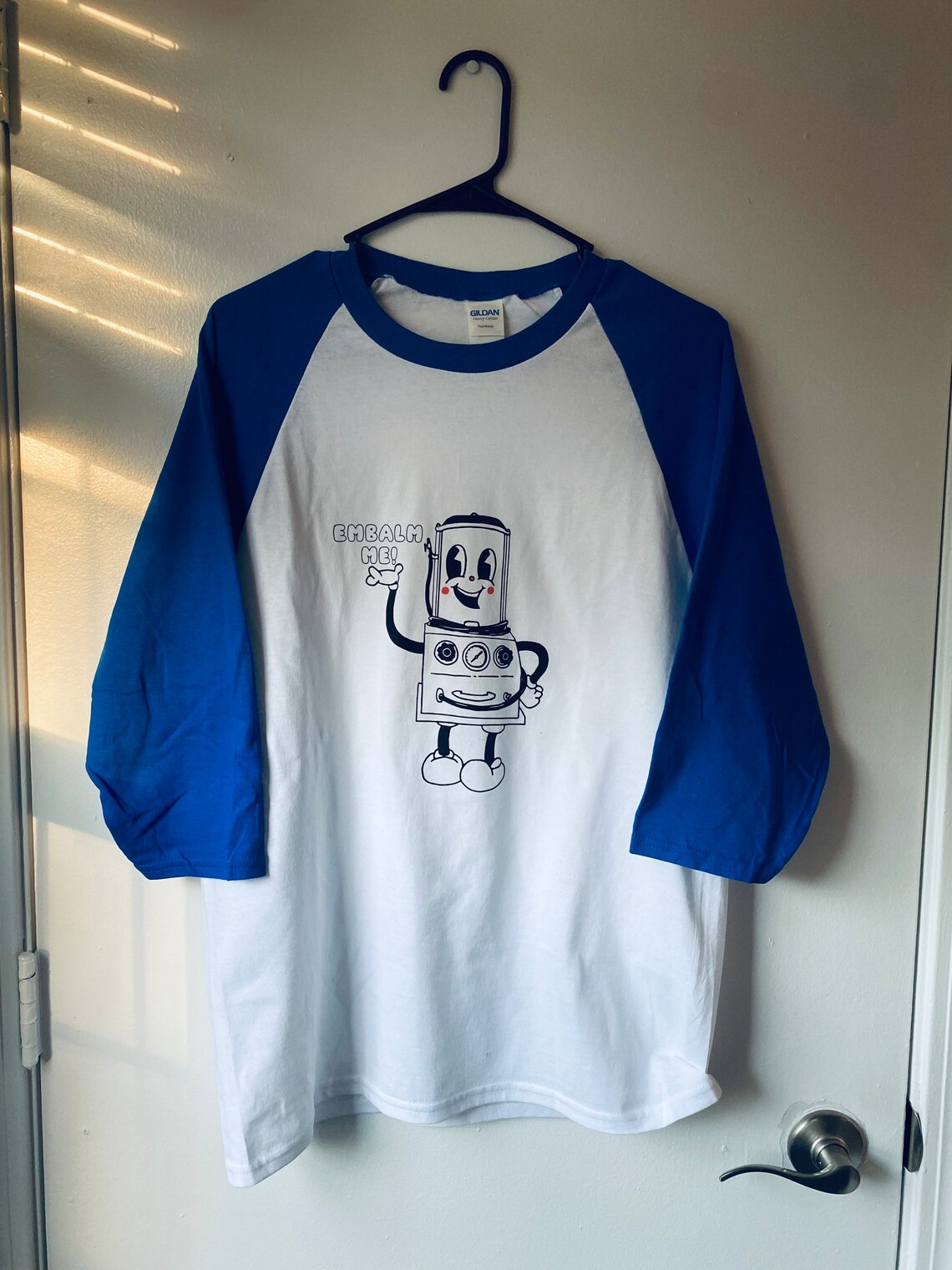 Add a touch of dark humor to your wardrobe with this hilarious embalmer's t-shirt! Featuring a whimsical Porti-Boy sporting a super cute face, it's the perfect way for embalmers to lighten the mood.
---
Funeral Service Heartbeat T-Shirt
Seriously, how cool is this T-shirt design? Most of the shirts you see created for funeral directors all have the same cliched jokes on them. I put the fun in funeral, the last one to let you down, party like a mortician and grab a cold one etc. This one doesn't need words or lame jokes – it's just the perfect visual representation of a service-hearted funeral director. Finally, a casual T-shirt that allows you take pride in your profession rather than make fun of it.
---
A Funeral Director's Prayer Plaque
Featuring a unique scroll design, this desktop item makes an excellent gift for funeral directors and serves as a great way to thank them during one of life's most difficult times.
---
Please No More I'm On-Call Hoodie
Working on-call can be stressful. This comfy hoodie can help you feel more relaxed and prepared for those late-night death calls.
---
Coffin-Shaped Shelf
It doesn't have to be Halloween to break out the coffin-shaped décor. For fans of gothic style, this awesome "oddities shelf" adds a wonderful conversation piece to any room.
---
Funeral Director Antique Tools Wrist Watch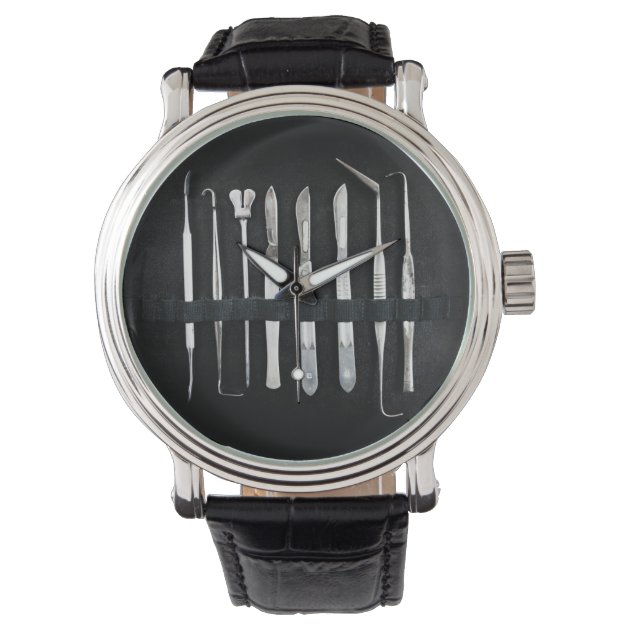 For directors who are fascinated by the history and progression of funeral service, this distinctive wristwatch makes the perfect gift. The old embalming instruments on the watch face invite you to reflect upon a much different time in funeral service.
---
Porti-Boy Badge Holder
A great gift for any deathcare professional who must carry a badge card. We would also love to see these floating around the expo hall at the NFDA and ICCFA Conventions.
---
Hearse Cookie Cutter
"Death by Chocolate" cookies will never be the same again. This awesome hearse-shaped cookie cutter allows funeral directors to add their signature touch to everyone's favorite baked good.
---
Great Gift Idea Suggested by a Director: The Heated Circulation Enhancing Lower Leg Massager.
"This funeral directors favorite gift ever was a leg/foot massage stool that I could use after endless hours on my feet attending to the door or embalming."
-Kurt Eschbach, Funeral Director.
---
What are some other great gift ideas for funeral professionals? Leave us a comment and share what other items you think directors would love to receive
---
Related Reading
17 Totally Awesome and Completely Unnecessary Amazon Products for Funeral Directors
9 Ridiculous Funeral Marketing Ideas in Honor of April Fools' Day
10 Reasons We're Thankful to Work With Funeral Directors in Honor of Thanksgiving