Oct 07, 2016
ASD's blog is your go-to source for everything you need to know about the upcoming convention and all that Philadelphia has to offer. Visit our blog to read our 2016 NFDA GUIDE Blog Series. Each part of our series will focus on a different aspect of the convention or of the city.
ASD is located approximately 25 miles from Philadelphia in the town of Media, a quaint and suburban neighborhood known as "Everybody's Hometown." We have always felt very fortunate to have the best of both worlds by being situated so close to a major city filled with history and culture without having to separate from our small-town roots. The close proximity to the city has provided us with a great deal of knowledge about Philadelphia including where to find hidden gems and which tourist traps should be avoided. We are excited to share this insider knowledge with you to help you plan a fun and memorable week in Philly.
In Part One, we explained why the month of October is the best time for funeral directors to visit Philadelphia. In Part Two, we outlined the topics and speakers we are most looking forward to hearing at the 2016 NFDA Convention, and in Part Three we'll tell you how to have a great time after classes let out. Whatever you're looking to do during your time in Philadelphia—from rewarding volunteer experiences to historical sightseeing to the best nightlife hotspots—the third installment of our convention guide will help you to plan an enriching AND exciting convention itinerary.
PART THREE: 10 Events, Attractions and Sights to Check Out At NFDA 2016
1. Habitat for Humanity
Time is a valuable commodity for funeral professionals, yet we have seen so many directors regularly volunteer their time to help others and give back. Why not kick off this year's convention with a fulfilling volunteer experience? What better way to get energized before the conference than to help home ownership become a reality for a family in need? Join ASD Vice President and Family-Member Owner, Kevin Czachor, and Operation Supervisor, Linda Haas, along with many other funeral professional volunteers on Saturday, August 22 from 7:30a-4:15p for the NFDA Habitat for Humanity Volunteer Day. We look forward to being a part of the team this year and helping to build a better future.
Click here to learn more
---
2. Live Comedy
They say you should always carry laughter with you everywhere you go and we hope you brought yours! Philadelphia is home to some great comedy clubs and a mecca for comedians. With so many wonderful and unique venues, there is a little something for everyone looking to catch a show. Helium Comedy Club (2031 Sansom Street) has been influencing the comedy scene in Philadelphia for more than a decade and is known as the best place to see a well-know act in an intimate room. Comedy Central's Steve Byrne will be performing the weekend the convention kicks off and SNL alum, Tim Meadows, will be there on the 27th and 28th. Like improve comedy? Take the kids with you to ComedySportz(2030 Sansom Street) for some family-friendly sketch comedy, or visit The N Crowd (257 3rd Street) in Old City where audience members are encouraged to participate in performances.
---
3. NFDA Tour: "Philadelphia Then and Now: From Colonial Capital to Modern Metropolis"
Independence Hall
Philadelphia is nicknamed the "Cradle of Liberty" because it was in this city that our nation first declared itself free and independent. There is so much history to see that it might be daunting trying to decide where to start exploring. Fortunately, the NFDA is offering a tour that covers everything you want to see during your time in Philly. Start your sightseeing adventures with this complete tour of the city's most famous landmarks and attractions.
The tour begins in Old City and includes some of the historic district's most beloved sites such as Independence Hall, where the Declaration of Independence was signed, the Betsy Ross House, where the first American flag was sewn, and Elfreth's Alley, America's oldest residential street (dating back to 1702!). The tour will then travel to some of Philly's other eclectic districts and neighborhoods like the Museum Mile, home of the famous Rocky steps, and Antique Row where you can see the stunning Rittenhouse Square Park. You'll learn and see firsthand how the city has evolved over the years and what makes it so special.
Click here for more information.
---
4. The NFDA Welcome Party
The Grand Hall of the Pennsylvania Convention Center
Every NFDA Convention begins with an official welcome party celebrating the commencement of the world's largest gathering of funeral directors. This year's welcome party will take place on Sunday, October 23 from 6:30p-8:30p at the Grand Hall of the Pennsylvania Convention Center (1101 Arch Street). This century-old room occupies much of the train shed of the former Reading Railroad Terminal. What a perfect atmosphere to mingle and catch up with friends and colleagues!
Click here for more informaton
---
5. The NFDA Convention Expo
Visit the NFDA Convention Expo to learn about the latest trends and advancements within the profession. With so many convention sessions focused on embracing change, you can expect to see a great deal of innovation at this year's exhibits. Be sure to use your time in the Expo Hall to learn about the products and services that can help your funeral home evolve. This is a great opportunity to see the latest funeral home merchandise and technology while reconnecting with your current vendors to learn what new offerings they may have added. You can visit the Expo Hall on Monday, October 24 from 12p-5p, Tuesday, October 25 from 12p-5p and Wednesday, October 26 from 9a-12p.
Be sure to stop by ASD's booth to see a live, interactive demonstration of our NFDA award-winning ASD Mobile app and other technologies we have created to make life more convenient for directors. Last year, we were awarded the 2015 NFDA Innovation Award for our MobileFH feature, which allows funeral directors to call any number from their cell phone and display the funeral home's office line as their outgoing Caller ID. Be sure to stop by to see a demo of this award-winning feature along with our new Deep Archive Search Tool, which was added to ASD Mobile earlier this year.
While you're at our booth, you'll have a chance to enter our raffle drawing to win one of our popular and exclusive Funeral Home Lego prizes. Perhaps you have already seen our Lego Cemetery and Lego Funeral Service sets. Maybe you've even won one of these coveted prizes. Well, we want you to know we're not done delivering smiles to funeral director Lego lovers just yet! This year, we have a third Lego prize that we're so excited to show you.
Here is a preview of the new ASD Lego Antique Hearse!
Stop by to see it at our booth and enter for your chance to be the first winner of our new Lego Hearse!
---
6. ASD Client Cocktail Party
As a Thank You to all of our clients for helping us win the 2015 NFDA Innovation Award, ASD will be holding our 2nd Innovation Appreciation Celebration Client Cocktail Party during the 2016 NFDA Convention. Join us for cocktails and hors d'oeuvres at the Pyramid Club – the only club in Philadelphia that offers a one-of-a-kind view of the city seen through 20-foot-tall windows. It overlooks iconic Philadelphia landmarks such as City Hall, the Ben Franklin Bridge and the Philadelphia Museum of Art. Located approximately 7 blocks from the Convention Center, the Pyramid Club is located on the 52nd floor of the BNY Mellon Center building at 1735 Market Street. We hope you'll plan to join us for a fun and relaxing night on top of the town! The party will take place on Monday, October 24 from 6-8pm.
Click here to add your name to our guest list.
A view of the Philadelphia skyline from the Pyramid Club
---
7. South Street
The South Street Bridge
South Street is always full of life and energy, no matter if you visit in the middle of a weekday or on a Saturday night. From non-conformists to fanny pack–wearing tourists, South Street attracts a diverse melting pot of people from all walks of life. We recommend starting your stroll on this storied boulevard from 10th Street so you can see the truly unique South Street Magic Gardens. Beloved Philadelphia Artist, Isaiah Zgar, created this public art installation using non-traditional materials such as bike tires, mirrors, hand-made tiles and ceramic shards. The Magic Gardens is a treasured art display that represents the diversity and unconventional beauty of South Street.
As you walk down from 10th Street towards the river, you can shop for eclectic fashion, statement-making accessories, vintage gifts, and more at one of the many independent boutiques, bookstores and record shops along way. Take a bite out of the best cheesesteak in Philadelphia at Jim's Steaks (4th and South Sts.) or the best pizza in Philadelphia at Lorenzo and Son's (305 South St.). Grab a drink at one of the many watering holes along the way that are filled with offbeat charm. We recommend Brauhaus Schmitz (718 South Street), an impressive German Beer Hall specializing in great brews, brats and schnitzel served by waitresses in authentic German garb. When you get to the end of South Street, take a walk over the famed South Street Bridge to get an unrivaled view of the ships docked at Penn's Landing. Don't forget to take a photo under the iconic sign!
---
8. Lucky Strike Bowling Alley
Around the corner from the convention center, you'll find one of the most entertaining nightlife destinations in the city at Lucky Strike Bowling Alley (1336 Chesnut St). Lucky Strike is like a bowling alley, arcade and club combined into one distinctively enjoyable after-hours hot spot. It offers more than 24 reservable bowling lanes, 10 billiard tables, ping pong, shuffleboard and our personal favorite – a giant-sized version of the game Jenga. And, if that's not enough, the food and cocktails at Lucky Strike are also delicious. The NFDA will host their Funeral Directors Under 40 party here on Tuesday, October 25 from 8-11p and they couldn't have picked a better location. The ASD team has had many fun nights together at Lucky Strike and we know NFDA attendees will love it as much as we do.
---
9. Nighttime Tours of Philadelphia
After an eventful day of volunteering, listening to seminar sessions or networking, relax and take in Philadelphia's most iconic sights while enjoying a nighttime tour of the city. Whether you want to spend your evening in Philadelphia learning about history, exploring the pub culture or getting spooked by ghost stories, your options are abundant. Here are a few great nighttime tours we think you'd love:
---
10. Comic Relief – A New Twist on the "Political Party"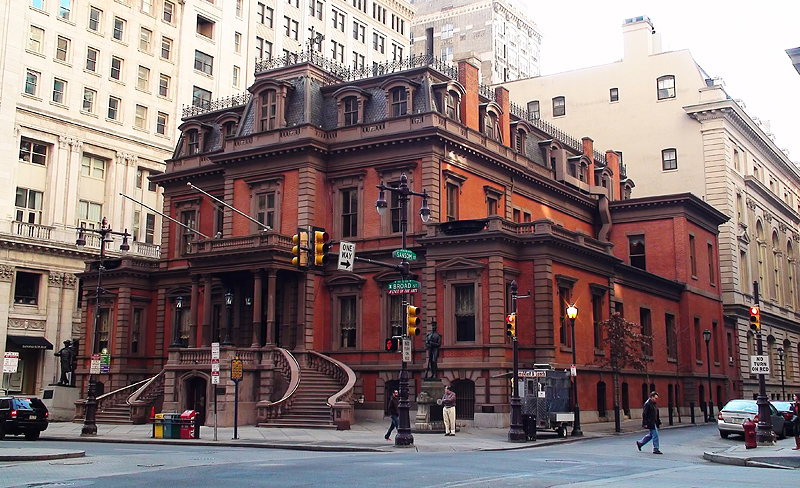 The Union League of Philadelphia
If you find yourself suffering from election fatigue, rest assured you are not alone. Perhaps the only silver lining of this contentious season is the relief of political satire and election humor. Fortunately, the NFDA has you covered. This year's closing party will feature a performance from Washington D.C.-based political comedy group, The Capital Steps. The party will take place on Wednesday, October 26 from 6:30p-9:30p at the Union League of Philadelphia. Built in 1865, the private club features French Renaissance inspired architecture, a brick and brownstone façade and twin staircase. It was added to the National Register of Historic Places in 1979. We can't think of a better party theme or location for capping off a convention that highlights both the achievements of our past and the prospects of our future.
Click here to learn more.
---
What are some other events, attractions and sights are you looking forward to experiencing during the 2016 NFDA Convention in Philadelphia. Leave a comment below – we'd love to hear what everyone has planned.
About The Author
Jess Farren (Fowler)
Jess Farren (Fowler) is a Public Relations Specialist and Staff Writer who has been a part of the ASD team since 2003. Jess manages ASD's company blog and has been published in several funeral trade magazines. She has written articles on a variety of subjects including communication, business planning, technology, marketing and funeral trends. You can contact Jess directly at Jess@myASD.com