Jan 17, 2014
There is something undeniably heartwarming about seeing a final wish granted. A terminal illness brings about feelings of complete powerlessness for everyone involved. Death is an unstoppable force and when we are confronted with it, it is our instinct as humans to fight, to search for a new solution, to deny reality. If there is something in that chaos that we can control, some way to bring light into that darkness, it can take away some of the sting that comes with an impending death.
Here are 8 stories that reveal the bittersweet beauty of a fulfilled final wish:
#8 Marcy Glanz's Month-long Farewell Party
After battling ovarian cancer for more than a year, Marcy Glanz received word from her doctors in November that her condition had worsened and she only had several weeks to live. Mary's response to the news was not to shut down or hide away from the world, but to plan a goodbye party for everyone in her life. Her party not only eased the pain of her loved ones who were grappling with the news, but it also allowed Marcy to take an active role in the planning of her own memorial service. She wrote an outline in advance, selecting everything from the music to the photos in the slideshow.
Marcy Glantz.
"There was a lot more laughing than crying," Mary's husband, Marion said in a New York Times article. "We did many of the things that people do after death, but we did it before she died."
Click here to read full story.
#7 Best Friends Reunite After 20 Years
After being told she had only a few days to live, Stephanie Defalco had only one request. She wanted to see her long lost best friend whom she had lost touch with more than 20 years ago. With the help of her children and the Dream Foundation, Stephanie's wish came true earlier this month when Ann Hollenbeck, her long lost best friend, was flown out to New Hampshire for an unforgettable reunion. The bittersweet story is a reminder that even when we are separated from the friends we love, they never leave our minds.
Click here to read full story.
#6 Ron Henderson's Monte Carlo
Many of us have a constantly changing to-do list in our heads of things we'd like to accomplish in the near future. When Ron Henderson learned his near future would only last a short while, he set out to do something he had been wanting to do for years: restore his 1970 Monte Carlo. Ron dedicated the last months of his life to disassembling and repairing the vehicle. When word spread about Ron's last wish throughout the community of Effingham, IL, neighbors and friends volunteered to help with the project, often working on the car from the early morning hours until late at night. Ron passed away shortly before the car was finished, but was able to put the keys into the ignition and start the engine before his death. On the morning of his funeral, Ron's friends fulfilled their promise adding the final touches to the car before loading it on a trailer and taking it to the funeral service.
The restored 1970 Monte Carlo
"[When Ron was diagnosed] I asked him if he wanted to travel the world," said Ron's wife, Cathy. "He said, 'I want to get that Monte going."
Click here to read full story
#5 A Bucket List Balloon Ride
Being over 100 hundred years old doesn't mean it's too late to try new things. Just ask Ella Passmore, the 106-year-old woman who took her first hot air balloon and helicopter ride last year. After making her bucket list wish known to the staff at the nursing home where she lived, Ella was put in contact with the Coastal Electric Cooperative who helped arrange the event. Ella loved the ride so much, she asked to be taken up in the air a second time after she noticed a restored World War II-Era helicopter that Coastal Electric Cooperative also owned. A year before completing her bucket list balloon ride, Ella also took her first ride on a Harley-Davison. If age is nothing but a number and attitude is everything, Ella Passmore just might outlive us all!
Click here to read full story.
#4 Graduation Ceremony Fulfills Mother's Wish
Jennifer Linnabary spent the last four years of her life battling against a rare blood cancer. During those same four years her son, Ben, completed his High School education. During the final days of her fight, Jennifer expressed her desire to see her son's graduation from high school. Her family, the local school district and hospital then set out to arrange a special ceremony at her bedside. A video of the event shows Ben tearfully accept his diploma, throw his hat in the air and then say, "I graduated mom." It will melt your heart watching the expression on the young man's face as he gives this last and precious gift to his mom.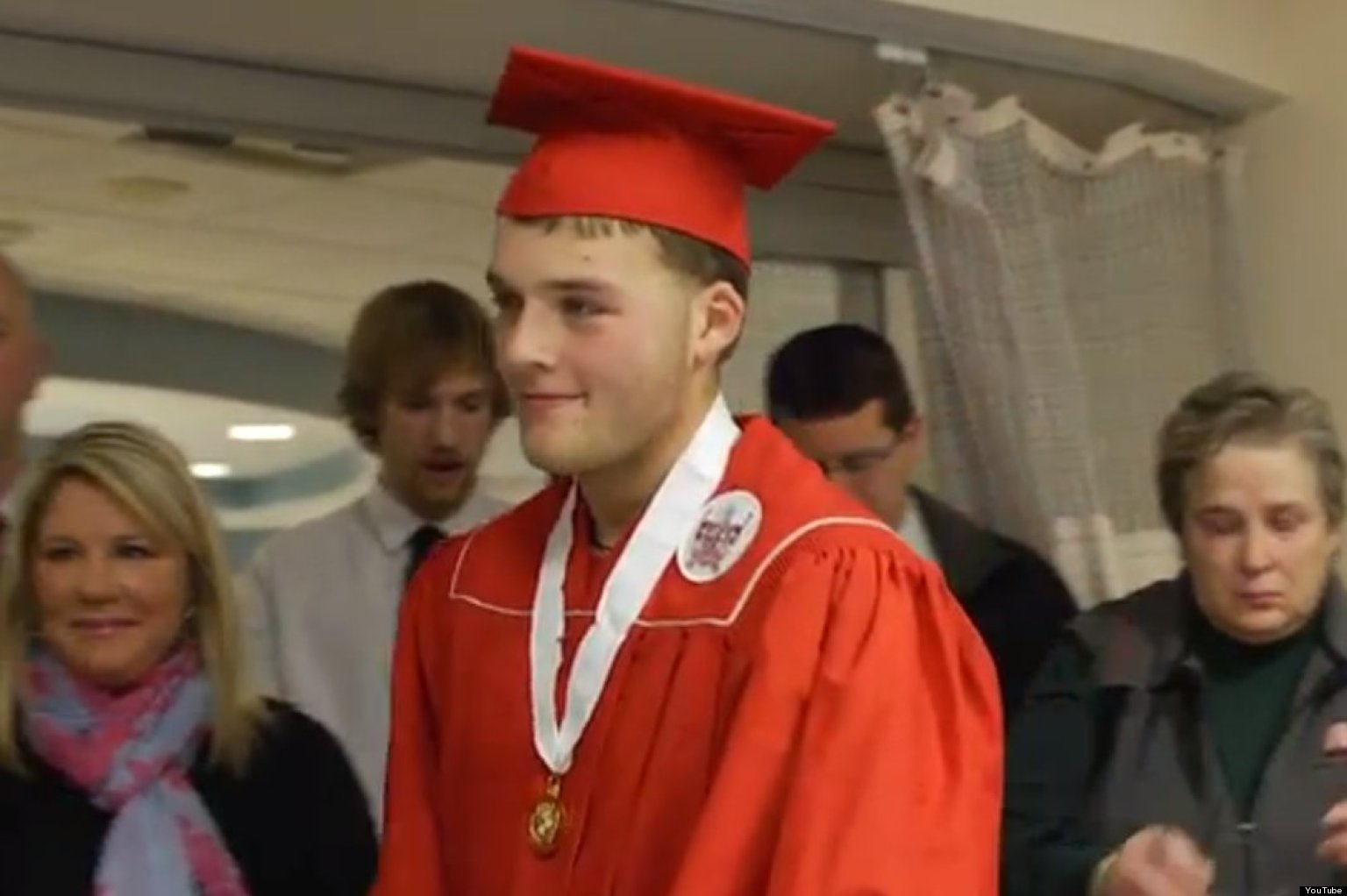 Ben Linnabary at his graduation ceremony at his mother's Ohio hospital bedside
Click here to read full story.
#3 A Walk to Remember
Every daughter hopes her father will be there to walk her down the wedding aisle one day. When Fred Evans learned he had only months to live, he decided he was going to find a way to make this dream come true for his two daughters, Grace and Kate. Although neither daughter was engaged, Fred planned a special service for his children so he could share his love and his blessing with them before he passed. It was a bittersweet event for everyone, but it allowed Fred to give this special memory to his family. For Grace and Kate, Fred's last wish will always be remembered as his greatest gift to them.
Fred Evans with his wife and two daughters.
"It was a big surprise for all of us," Grace Evans said. "He said, 'In the future, I won't be there for your big day when you're walking down the aisle, and I want you to know that I'm proud of you and share this moment with you.' "
Click here to read full story
#2 Batman for a Day
You couldn't walk into a grocery store or a coffee shop in mid-November without hearing the name, "Bat Kid." That's because 5-year-old Leukemia survivor, Miles Scott, inspired and captivated the entire country with his Superhero dream. When the Make-A-Wish foundation found out it was his greatest dream to be Batman for a day, it set off a chain of events that lead to an entire city and nation rallying around Miles to help make his dream come true. Millions tuned in to watch as San Francisco was transformed into Gotham City and as Miles took down the Penguin and Riddler, saved a damsel in distress and rode off in his bat mobile. Miles' wish touched everyone who followed the story and no one will ever forget his incredible day as Bat Kid.
Click here to read full story
#1 10,000 Carolers Grant Child's Christmas Wish
She didn't ask for much. All she wanted was to hear the sounds of Christmas carolers as she rested in her bed a few nights before Christmas. That simple, heartfelt request of an 8-year-old girl suffering from leukemia touched more than 10,000 people. At first it was a few hundred that came, then thousands began pouring into the streets outside of Laney's home, singing Christmas music outside her window. Although she was too weak to go to the window, her family posted a photo of Laney online showing her with two thumbs up despite a breathing mask. Laney's wish produced an incredibly miraculous event, inspiring thousands to stand outside and sing Christmas music to let a little girl know she is loved.
Thousands of people came out to sing Laney Christmas carols.
"As much as I want that miracle to be saving the life of an 8-year-old little girl, Laney, the miracle was an 8-year-old little girl teaching an entire community, town, city and the whole country the true meaning of Christmas," caroler Marianne Franken wrote on her Facebook page.
Click here to read full story
---
Were there any inspiring last wishes that we missed? Leave us a comment and let us know. We never tire of reading these moving stories.
About The Author
Jess Farren (Fowler)
Jess Farren (Fowler) is a Public Relations Specialist and Staff Writer who has been a part of the ASD team since 2003. Jess manages ASD's company blog and has been published in several funeral trade magazines. She has written articles on a variety of subjects including communication, business planning, technology, marketing and funeral trends. You can contact Jess directly at Jess@myASD.com