It's A Life and Death Situation: 8 Aftercare Ideas to Connect With Your Community
Sep 03, 2015
There was a time in our history when a person would only seek out the assistance of a funeral director after a loved one's passing. Eventually, society came to learn that planning in advance for death can do a great deal to lessen the burden on family members while ensuring the final wishes of the deceased are honored. Today, directors are once again redefining society's perception of funeral homes by providing resources and support to the public not only after a passing, but all year long.
Funeral home aftercare programs have helped countless individuals rebuild their lives after a significant loss. From hosting an event for seniors to offering grief support recommendations, funeral homes are connecting with their communities in new and inspired ways. With social media, email newsletters and websites, directors now have access to an open form of communication that allows them to offer messages of encouragement to families served in the past. These online options also help to build awareness about important local causes or to notify residents about an upcoming event.
If you're looking for creative ways to introduce or enhance your funeral home's aftercare program, we've got you covered. Here are 8 strategies we've seen that can help funeral homes build lasting relationships with their communities.
1. Host a Social Event for Seniors
To erase the perception of a funeral home as a morbid or depressing place, many firms have begun hosting fun events for senior citizens in their area. These events bring together those that have experienced a loss with others that have gone through a similar experience. By encouraging the public to socialize in the funeral home, directors can create an atmosphere with positive associations where seniors can feel comfortable sharing stories and reflecting on the past.

Every Valentine's Day, Grace Funeral & Cremation Services in Rockford, IL holds a Valentine's Day Luncheon for widows and widowers.
Other social events for seniors we've seen funeral homes host include Funeral Home Movie Nights, "Senior Prom" and weekly walks to encourage healthful living. In addition to offering events for the elderly, many directors will also volunteer for events at nursing homes, senior centers and healthcare tradeshows to connect with seniors on a more personal level.

Matt Grieco of Grieco Family Funeral Homes in Kennett Square, PA spending time at a local Senior Center.
---
2. Hold a Contest or Competition
If you want the public to engage with you, brainstorm some ideas for a contest your funeral home could hold that would inspire creativity in your neighborhood. Invite the public to help you name something such as a new pet at the funeral home or hold an essay writing competition. Send a press release to your local paper and use your social media sites to share information on your contest. Below are a few examples of interesting contests funeral homes have held in the past:
► "Share Your Humorous Funeral Experience" Essay Contest
To commemorate the firm's 125th Anniversary, the Coyle Funeral Home in Toledo, OH created an essay-writing contest in 2013. The contest invited participants to submit a 500-word essay describing their funniest funeral stories. It was created to highlight how a humorous incident can bring a moment of relief to family members. The winner received a "Free Funeral" from Coyle Funeral Home (up to $5,000) as well as a night on the town including a limo, dinner and movie tickets.
► "Osprey Naming Contest"
When two osprey set up a nest in the chimney of Doane, Beal & Ames Funeral Home in Hyannis, MA, the funeral home owners decided to get input from the public as to what the two love birds should be called. They created a naming contest and received more than 100 entries, eventually naming the osprey, "Alpha" and "Omega."
Doane, Beal & Ames Funeral Home got a little help from the public when naming the two osprey living in their chimney.
► "Youth Essay Contest"
Helping younger generations recognize the importance of paying tribute to others is an inspiring way to show support for the local area. In 2014, the Bring's Broadway Chapel in Tucson, AZ partnered with their school district to host an essay contest for middle and high school students focused on the importance of Memorial Day. The contest was created to help students learn more about the price of freedom.
---
3. Offer Grief Therapy
Family members often will turn to the funeral home after their loved one's service for advice on coping with their loss. Directors can play a key role in helping the bereaved by providing resources, literature, classes and/or recommendations. While some funeral homes have a grief counselor on staff to provide individual or group sessions, others work with outside bereavement organizations. Additionally, there is also a great deal of online grief therapy resources that directors can refer to those who live far away or cannot commute. By treating families like a high priority after a loved one's service, funeral professionals can offer assistance to those suffering after a loss and foster lasting relationships within their communities.
Hamilton's Funeral Home in Des Moines, IA holds a Coping With Grief Family Services Symposium to offer practical suggestions to the bereaved. The funeral home also offers several grief support groups for children.
---
4. Hold a Clothing or Food Drive
Throughout history, funeral directors have never turned a blind eye to those in need. Helping those less fortunate demonstrates your altruistic support for others. Ask yourself what causes matter most to you and how your funeral home might be best equipped to help. For instance, funeral homes that join the Veterans & Family Memorial Care Funeral Home network will collect items such as clothing, valentines and Christmas stockings for veterans and active duty soldiers. Others will hold canned food drives for their local food banks or collect clothing for the homeless. By making your funeral home a designated drop off point, you can interact with residents who stop by with donations while helping those in need. Using social media and your website to share information about your charity drive will help you to spread awareness and increase donations.
Eline Funeral Home in Hampstead, MD held a food drive last year for their town food pantry, matching all donations.
---
5. Support Local Art
Funeral homes are a natural setting for deep thought and reflection. By using the walls of the funeral home to showcase local artists, directors can show support for artists in their areas while enhancing the atmosphere of their funeral homes. This also gives neighbors a new motivation to drop by.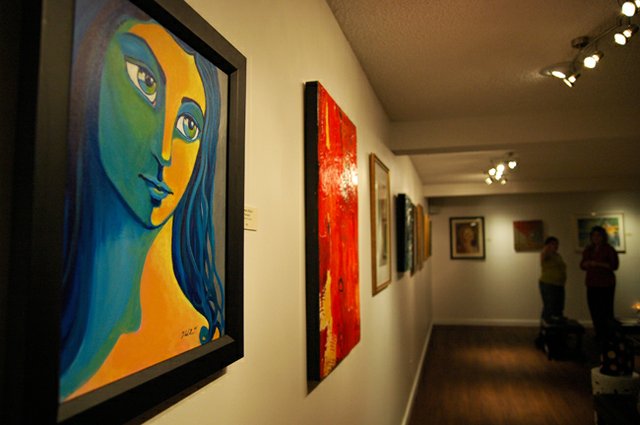 In 2012, Carey Hand Cox-Parker Funeral Home in Winter Park, FL partnered with a nonprofit art organization and transformed a converted casket storeroom into a permanent art gallery.
In addition to displaying art, directors can also encourage others to get creative by hosting craft classes with funeral-related themes. For example: a scrapbooking or quilting class focused on memorializing a lost loved one or a workshop that helps family members create rose petal beads from funeral flowers.
---
6. Provide Educational Seminars
Many people aren't sure where to begin when researching life insurance, prearrangements, irrevocable trusts, probate laws, estate taxes and other complicated end-of-life concerns. Funeral directors can act as a resource to those who need this information by offering monthly educational seminars on these issues. Providing facts and materials to seniors in an understandable and interesting format can help you to position yourself as an expert on these issues within your community.
A Life-Planning Seminar Held by McComas Funeral Home in Abingdon, MD, which brought together experts in the fields of hospice care, elder law care, preplanning and grief support.
---
7. Honor Lost Loved Ones During the Holidays
Many funeral homes will organize an annual service of remembrance or tree lighting ceremony for those that lost someone during the previous year. This allows the bereaved to come together to honor their loved ones and share experiences with others who understand their grief. Funeral Directors often provide candles so that attendants can light a candle in memory of a loved one or place an ornament on a memorial tree. These symbolic gestures can have a profound emotional effect for families that attend. Hosting a service of remembrance can be a very moving experience for funeral directors as well. It provides an opportunity to reconnect with all the families they have touched over the year.
More than 300 people attended F. Ruggiero & Sons Funeral Home's Annual Tree Lighting Ceremony in Yonkers, NY.
---
8. Fundraise for a Local Charity
Working with a charity or organization can help you connect with more residents in your area. One of the most creative and inspired examples of this that we've seen comes from Hansen-Spear Funeral Home in Quincy, MA. The funeral home created a "Give Back" program that encourages residents to vote online for a different local charity each month. The winning organization is then presented with a check by the funeral directors. Although there are a lot of different ways to fundraise for a cause, this program really takes aftercare to a new level because it creates a new way for directors to communicate online with their community.

Will Spear of Hansen-Spear Funeral Home presenting their local Salvation Army with their "Give Back" prize.
---
What aftercare strategies have worked for your funeral home? What advice would you give to other directors to enhance their programs? Please share a comment below – we'd love to hear about your experiences.
---
Don't Forget To Vote for ASD's MobileFH™ to win the 2015 NFDA Innovation Award!
About The Author
Jess Farren (Fowler)
Jess Farren (Fowler) is a Public Relations Specialist and Staff Writer who has been a part of the ASD team since 2003. Jess manages ASD's company blog and has been published in several funeral trade magazines. She has written articles on a variety of subjects including communication, business planning, technology, marketing and funeral trends. You can contact Jess directly at Jess@myASD.com